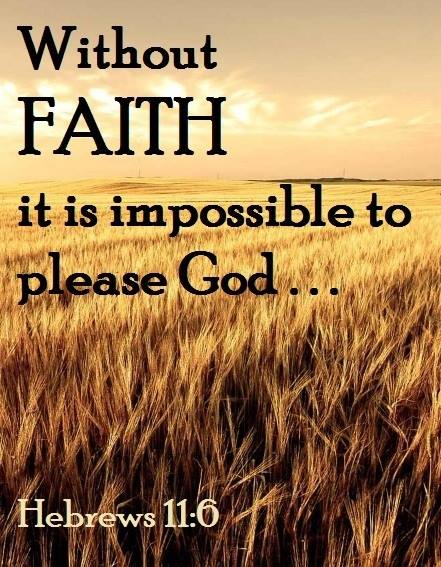 Hebrews 11:16 "And without faith it is impossible to please God, because anyone who comes to Him must believe that He exists and that He rewards those who earnestly seek Him".
Somtimes the only thing standing between the manifestation of what God has blessed us with is our unbelief and doubt which is mainly fostered by the circumstances we are currently facing. This then decreases our hope and lessening our faith which is Hebrews 11:1 Now faith is the substance of things hoped for, the evidence of things not seen and our belief in the unseen withers.
Child of God remember We walk by faith and not by sight ( 2 Corinthians 5:7). So no matter what you're currently facing you have to believe that better days are comming, fix your eyes on Jesus, hang on to your faith and don't give the enemy a chance to cloud your mind with unbelief and doubt.
There's is also power in your tongue ( Proverbs 18:21 Death and life are in the power of the tongue: and they that love it shall eat the fruit thereof).So learn to make declarations upon your life speak things into existence, prophesy upon your life because what God cannot do does not exist.
Prayer Points For Faith
For we walk by faith not by sight, 2Corinthians 5:7
Prayer 1
God my father, open my eyes, not to see the world more clearly, but to see You more clearly. Open my eyes to see you working around me and in me.Direct and guide me everyday in my life..Help me to trust in what I cannot see, and believe in Your invisible presence.
Prayer 2 -A prayer to increase faith
"The apostles said to the Lord, 'Increase our faith!'" (Luke 17:5) Father, even the disciples that walked with Jesus needed to strengthen their faith. Jesus told them if their faith was only the size of a mustard seed, they could uproot trees and crumble mountains. Lord, I need more faith like the disciples. Increase my faith and make me a mover of mountains. Grow my belief in You alone so that I would be strong in the Lord and ready to battle against the doubts planted by the enemy. Lord, increase my faith!.In Jesus's mighty name, Amen!
#FixYourEyesOnJesus
@Ms Felicia Mathodi